Pokracovani k minulemu prispevku. Berte na vedomi, ze kluci, co to psali jsou rizi technici a neresi, kolik benzinu bude spotrebovavat US consumer v lete... preberte si to jak chcete, i ja povazuji nektere jejich projekce za dost ulitle:)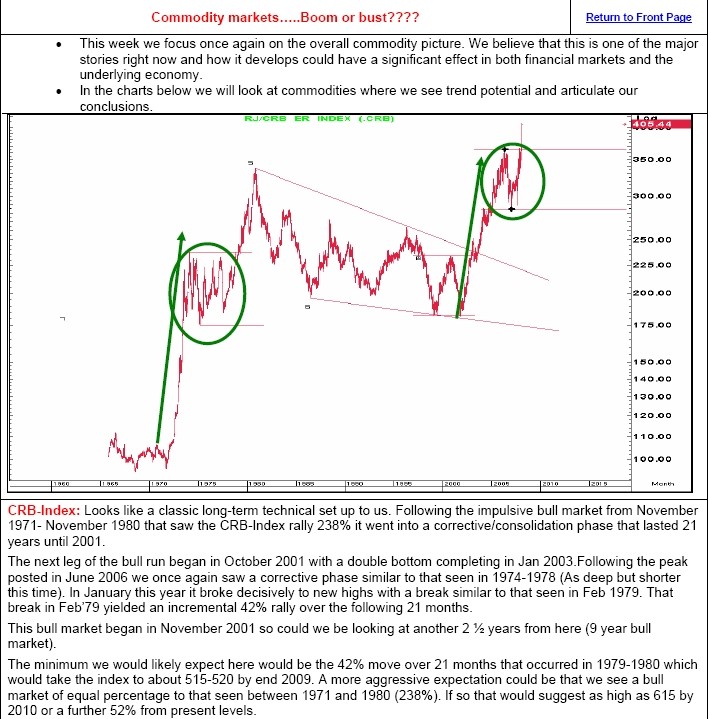 Ted vynecham par odstavcu s mene ci jeste mene uveritelnejma cilovkama vybranych komodit a prekopiruji zaver (castecne replikuici predchozi, tyden stary prispevek, ale wording je misty docela zabavnej)
Despite this the picture here suggests to us that we are looking at very strong momentum across the board whether it
is energy, softs, industrial metals and precious metals that suggests continued gains. If so we have a few thoughts.
• This comes at a time when we look to have a renewed bear market for the USD across the board (Zimbabwe a
notable exception….sorry Bobby M.) As a consequence whether G10 or EM we believe that the currencies that
can do really well here are those that are part of the Commodity supply chain and those that might lag are those
that are part of the demand chain. The greatest difficulty will come for those countries that restrain the strength of
their currencies against the USD as that will bring elevated difficulties on the inflation side (Particularly
manufacturing economies that are big commodity importers- How is that China stock market looking?????? –
see page 47)
• Of course the place that will suffer the most is the U.S.A. At a time when housing, the economy, the credit
markets and potentially Equities are all under stress we may be looking at a rapid rise in the only asset market
that reduces the consumer discretionary income rather than supplements it (As a rally in debt, Equity and
housing markets tend to)
• In addition guess what… the U.S. cannot allow the USD to strengthen against the USD to mitigate the restraining
effects of the rise in commodities versus the USD like other countries can.
• Bottom line we look to b moving into the stage where people are once again seeing that the highest level of
concern rests with the U.S.. as a consequence this looks likely to reignite a backdrop of lower U.S. yields, lower
spreads vis a vis other G10 countries, a weaker USD and likely a weaker Equity market.
• While everything they can think of on a fiscal and monetary basis will likely be thrown against the wall to mitigate
this the increasing concern is that nothing looks to be sticking.